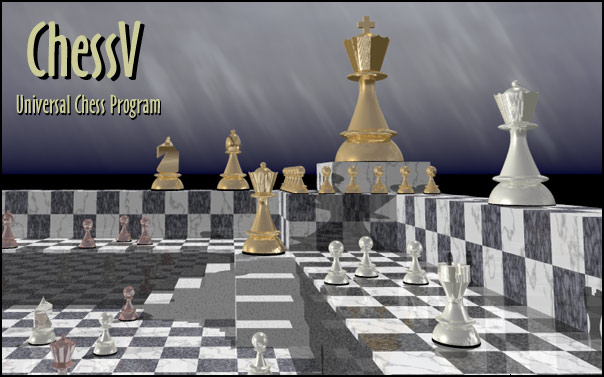 CHESSV COPYRIGHT (C) 2007-2016 BY GREGORY STRONG
ChessV is an open-source Universal Chess Program with graphical user-interface, sophisticated AI, support for opening books, and other features of traditional Chess programs. Currently, over 50 chess variants are supported.
ChessV is released under version 2 of the GNU General Public License.
Download
| | |
| --- | --- |
| NOTE: | There is no installation program. Simply unzip and run ChessV.exe. Although this is a Windows program, it can also be run on Linux under Wine. Also included is an executible named ChessV_Winboard.exe which allows running the ChessV engine under Winboard. |
Supported Variants:
Alapo
Almost Chess
Angels and Devils
Archchess
Berolina Chess
Birdís Chess
Cagliostroís Chess
Capablanca Chess
Capablanca Chess, Aberg variant
Capablanca Chess, Paulowich variant
Carreraís Chess
Chess256
Chess 480
Chess with Augmented Knights
Chess with Different Armies
Chess with Ultima Pieces
Courier Chess
Cylindrical Chess
Diagonal Chess
Diamond Chess
Embassy Chess
Emperorís Game
Enep
Eurasian Chess
Exinction Chess
Fischer Random Chess
Great Chess
Great Shatranj
Grand Chess
Grotesque Chess
Janus Chess

Janus Kamil Chess
Kinglet
Ladorean Chess
Latrunculi duo milia et septum
Leganís Game
Lemurian Shatranj
Lions and Unicorns Chess
Los Alamos Chess
Modern Kamil
Modern Shatranj
Odinís Rune Chess
Opti Chess (mirror I)
Opulent Chess
Orthodox Chess
Polymorph Chess
Roman Chess
Royal Court
Schoolbook Chess
Shatranj
Shatranj Kamil
Shatranj Kamil (64)
Sosarian Chess
Switching Chess
TenCubed Chess
Three Checks Chess
Ultima
Unicorn Chess
Unicorn Great Chess
Unicorn Grand Chess
Univers Chess
Search Engine Features:
Searching
Alpha-Beta Nega-Max Principal Variation search
Iterative Deepening
Null-move Forward Pruning
Internal Iterative Deepening (IID)
Static Exchange Evaluation (SEE)
Search Extensions:

check extension
null-move threat extension

Futility Pruning and Razoring
Killer-move Heuristic
Late Move Reductions (LMR)
Evaluation
Piece-square tables
Pawn structure evaluation
Mobility evaluation
King Safety
King Tropism
Lazy Evaluation
Hash Tables
Transposition Table
Pawn Structure Table
Evaluation Cache
Repetetion Detection
Current Limitations:
No games with more than two players are supported.
No game with a move order other than the usual white-black-white-black is supported (such as double-move chess.)
No games with randomness or hidden information are supported.
No ability to edit the board mid-game is provided.